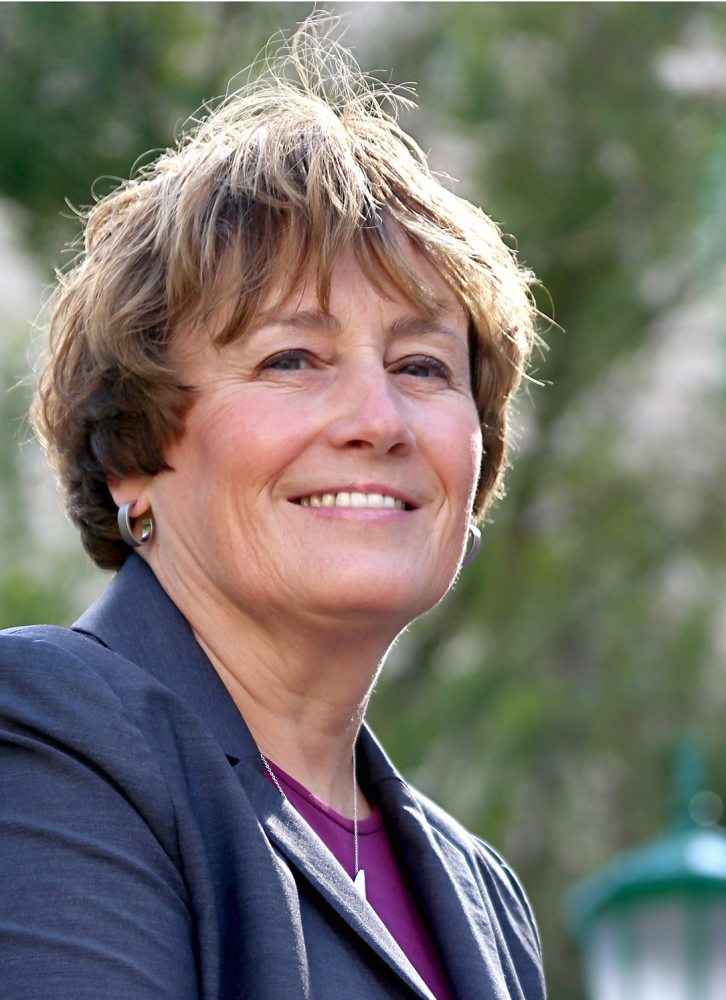 The following appeared in UChicago News on 16 October. 
Brenda L. Johnson, an internationally respected leader in the field of library science, has been appointed Library Director and University Librarian, Provost Eric Isaacs announced Oct. 16. Her five-year term begins Jan. 1, 2015.
"The Library plays a key role in the life of faculty and students at the University of Chicago," Isaacs said. "Brenda's expertise in supporting both physical collections and the proliferation of digital resources, along with her history of collaboration and innovative thinking, make her an outstanding leader for this important enterprise."
Johnson currently serves as Ruth Lilly Dean of University Libraries at Indiana University, Bloomington—a position she has held since 2010. She succeeds Judith Nadler, who retired in June after nearly five decades of service to UChicago.
Before coming to Indiana University, Johnson was University Librarian at the University of California, Santa Barbara. She spent more than 20 years at the University of Michigan, where she served as Associate University Librarian for Public Services, a position with responsibility over that institution's 19 libraries.
She is active in the national and international library community through service and leadership on a variety of executive boards and committees, such as the board of governors of HathiTrust, the board of directors of CLOCKSS (a digital repository for web-based scholarly publications), the Committee on Institutional Cooperation Library Directors Group, the board of directors of Kuali OLE (Open Library Environment), and the Association of Research Libraries' Scholarly Communications Steering Committee.
Johnson has become a nationally and internationally recognized voice on topics such as the rapid pace of change in information discovery and dissemination, the development of multi-institution "collective collections," and research and learning environments, as well as the need for library transformation that fosters scholarly engagement and support. Her recent international speaking engagements have taken her to London, Shanghai, and Kyushu and Yokohama, Japan.
"The University of Chicago Library is a unique and influential institution among academic libraries," Johnson said. "I am truly honored by the opportunity to lead it through a time of transformation for all libraries, and eager to collaborate with faculty, students and staff to ensure its vitality in the years to come."
Diane Lauderdale, professor of Health Studies, is chair of the Library's faculty board and chaired the search committee that recommended Johnson for the position of Library Director.
"Brenda Johnson is an experienced library director and well-respected leader in the international academic library community," Lauderdale said. "She will bring to the University of Chicago a deep understanding of collections, public and technical services and new technologies. We have an outstanding collection and staff here, but like all university libraries, face challenging decisions in the next few years about our physical and digital collections. The search committee felt confident that Brenda had the experience, insight and vision to lead our library to an even higher level of excellence."
At a time of change for libraries nationwide, the University of Chicago Library has flourished as a center of intellectual inquiry recognized throughout academia and a dynamic learning environment for UChicago students. With its 11.9 million volumes, noted collections in a broad range of fields, including global resources and commitment to keeping its collection on campus, the Library has become a destination for scholars and a model for other institutions worldwide.  
The Joseph Regenstein Library and the adjoining Joe and Rika Mansueto Library are located in the heart of the Hyde Park campus—a testament to the Library's continued importance to scholarly and campus life at the University, Isaacs said.
The Mansueto Library is the most recent addition to the library system. Mansueto houses cutting-edge facilities for book preservation and digitization, as well as a high-density underground storage system with the capacity to hold 3.5 million volume equivalents. The library was designed to fulfill scholars' needs for easy access to print resources at a time when many other research universities are moving their collections to off-site storage.
The library is named in honor of Joe Mansueto, AB'78, MBA'80, and Rika Yoshida, AB'91, who gave a $25 million gift to the University in 2008. Architect Helmut Jahn designed the facility's iconic glass dome, which encloses a light-filled reading room and an underground storage system that descends 50 feet below ground.
Alice Schreyer, Associate University Librarian for Area Studies and Special Collections, has been leading the Library on an interim basis since Nadler's retirement. She will continue in that role until Johnson's arrival.