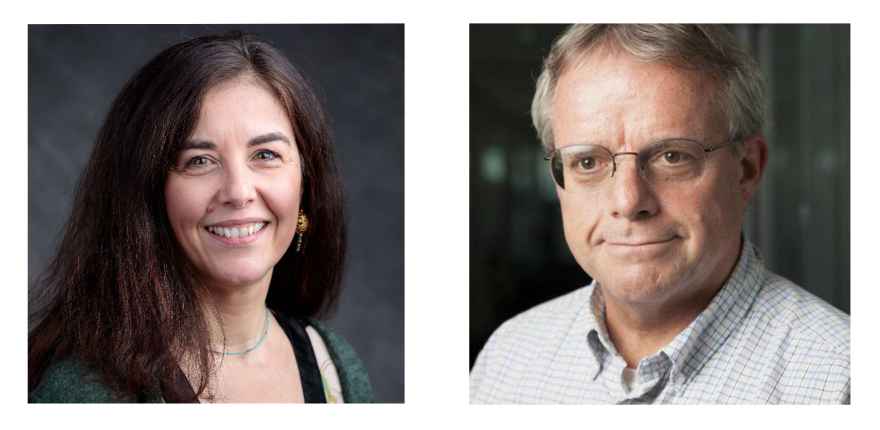 By Sara Patterson
Profs. Christopher Faraone and Sofía Torallas Tovar will receive the Charles J. Goodwin Award of Merit by the Society for Classical Studies as co-editors of the book, The Greco-Egyptian Magical Formularies (2022) in January 2024. It is rare for this prestigious award to be given for a co-edited volume or for one concerned with papyrological texts, a subfield of classics, according to Faraone and Torallas Tovar.
The award, they insist, belongs to the seven contributors to the book, and as well as to the many other scholars who have worked tirelessly on the three-volume re-edition of these formularies, all part of the "Transmission of Magical Knowledge" project funded by the Neubauer Collegium and the UChicago Paris Center. 
For nearly a decade, these two Classics professors have worked in tandem, using the respective expertise of Torallas Tovar in papyrology and of Faraone in magical texts to edit, translate, analyze, and date papyrus rolls and codices from Egypt during the second to fourth century A.D. These magic formularies contain recipes for love potions, curses, amulets, and prognostication.
"With their project, Professors Faraone and Torallas Tovar have established the study of ancient magic on an entirely new footing," said Clifford Ando, David B. and Clara E. Stern Distinguished Service Professor in the Departments of Classics and History and the College and chair of Classics at UChicago. "It's not just that their edition observes the best modern principles of textual criticism. Their project advances new ways of treating any texts, in which format and medium also play a fundamental role in interpretation."
The results of this larger project began to appear in the Greek and Egyptian Magical Formularies Text and Translation, Vol. 1 (2022). Faraone and Torallas Tovar expect to have Vol. 2 ready for publication in early 2024 and published later in the year.
Torallas Tovar, an expert on papyrus rolls and codices, has led the team in making several key discoveries, for example, that two handbooks previously thought to be written centuries apart were written by the same scribe and that the same scribes who worked on magical handbooks also copied gospels and religious works. Once she and the other paleographers on the team correctly dated these magical formularies and arranged them in chronological order, they realized how these magical formularies fit neatly into the evolution of book production in Roman Egypt.
"Imagine a puzzle with all the pieces in the wrong order," said Torallas Tovar, professor in the Departments of Classics and Near Eastern Languages and Civilizations and the College at University of Chicago. "We fixed the puzzle, and then the pieces fell into the correct places."
Prior to working with Torallas Tovar, Faraone focused on earlier Greek curse tablets and amulets. He gives credit to both Ando and Torallas Tovar for "seducing me out of the Classical and Hellenistic Greek world into the later Roman periods" and for teaching him about scribes and their innovative work in the Roman Empire.
Contrary to his expectations, Faraone saw how the scribes did not just copy and recopy recipes line by line, but rather they creatively elaborated and experimented with these texts to create more and more complex amulets and curses for their clients. As a result of his work with Torallas Tovar and the other contributors to the project, Faraone noticed that the recipes from Roman Egypt differed greatly from the texts and designs found on amulets and curses in Rome, Greece, and Asia Minor.
Now Faraone is writing a book called "The Lost Magical Handbooks of the Roman Empire," in which he is trying to "reverse engineer" the magical texts that survive outside Egypt to understand what kinds of handbooks were being used in other parts of the Roman world. Part of the idea is to "counter the argument that all magical formularies used in the Mediterranean basin originally came out of Egypt," said Faraone, the Edward Olson Professor in the Department of Classics at UChicago.
Drawing on materiality
Always interested in the creation and circulation of books in the ancient world, Torallas Tovar is fascinated by how the scribes learned to write and the materials and inks they used for books. She has questions like, for example, whether the scribes bought the ink or produced it themselves.
Torallas Tover recently traveled to Paris with two graduate students to closely examine a tattered papyrus roll in the Louvre. She tested the inks used by the two scribes who created it. This research has confirmed her hypothesis that scholars must read the fragments of this handbook in a different order. This is another example, Torallas Tovar would say, of how the materiality of these books are a crucial part of how scholars reconstruct and understand ancient readership. 
To answer why he studies ancient magic, Faraone replied that he grew up in a family—Greek on one side and Italian on the other— in which his grandmothers believed in the power of amulets and fortune-telling. When his father went off to fight in the Korean War, he carried an amulet made by his own mother to protect him, For Faraone's first car, his mother gave him Greek "worry beads" for protection, which he hung on the rear-view mirror. Although Faraone doesn't believe the beads give him any protection, he still carries them around his briefcase because they give him emotional comfort and remind him of his mother who passed away 10 years ago.
According to Torallas Tovar, although magical formularies like those preserved in the papyri are not widely used today, their legacy lives on because people still have many of the same problems that they had hundreds of years ago. People still have enemies, but they are more likely to take them to court than to curse them. People want to attract the person they like, and individuals desire to have a better business than their competitors. But they usually don't use love potions or curses, but look for other means to accomplish the same ends.
"Under the leadership of Christopher Faraone and Sofia Torallas Tovar, an international team of scholars specializing in papyrology, classical languages, Egyptology, and the history of religions has put together a new edition of some of the most fascinating witnesses to ancient magic, a set of papyrus formularies with recipes for ritual procedures," said Radcliffe Edmonds, the Paul Shorey Professor in the Department of Greek, Latin, and Classical Studies at Bryn Mawr College and one of their colleagues working on these projects. "This new edition re-examines the papyri, not just for new readings of the texts but with particular attention to the material form of these formularies.
"From Egypt but written in primarily Greek, Coptic and Demotic Egyptian, this edition and English translation of these texts will provide the new scholarly standard for the study of these materials, which have played a vital role in the scholarship on ancient Mediterranean religion throughout the past century and more."
Faraone and Tovallas Tovar feel fortunate that they will receive the Goodwin Award for their work. They are proud to be part of a robust tradition in the Chicago Classics Department. Other winners of the Charles J. Goodwin Awards of Merit are Professors Peter White for his book Promised Verse: Poets in the Society of Augustan Rome (1993), Jonathan M. Hall for Ethnic Identity in Greek Antiquity (1997), Ando for Imperial Ideology and Provincial Loyalty in the Roman Empire (2013), and Shadi Bartsch-Zimmer for Persius: A Study in Food, Philosophy, and the Figural (2015).