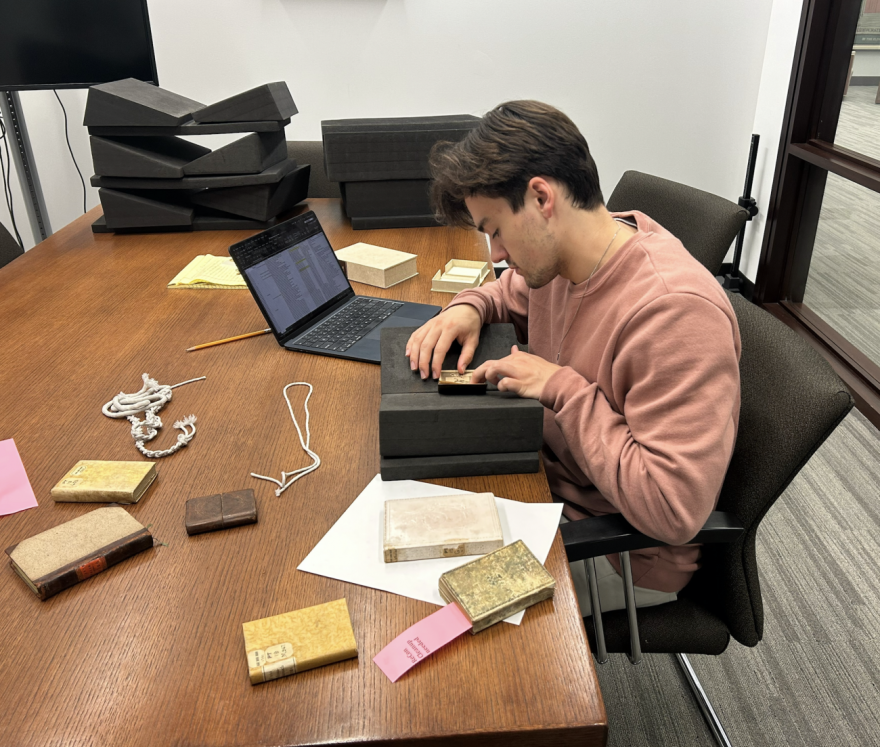 By María Carrasquilla
The College Summer Institute in the Arts, Humanities, and Social Sciences (CSI) provides UChicago undergraduate students with a research community and mentors like what their science, technology, engineering, and mathematics (STEM) peers experience in the laboratory. In 2023, CSI paired 23 undergraduates with faculty research mentors for its immersive nine-week summer research program. The students presented a wide range of research projects during a celebratory closing symposium on Aug. 17, 2023.
"When I started my work with the CSI this summer, I had already conducted a fair bit of research at UChicago, though never related to the field of Assyriology," said Sarah M. Ware,  a rising fourth-year student majoring in Classics and Medieval Studies. During the summer, she worked with a team of Assyriologists at the Institute for the Study of Ancient Cultures (ISAC), conducting research in preparation for their upcoming exhibition Back to School in Babylonia, which opens on Sept. 21.
"I had the rare opportunity of stepping completely outside my field and examining how those at the top of their field of Assyriology use text, media, and research archives, both differently from and similar to how I use them," Ware said. "Now I have a stronger proficiency in transferring research skills across fields in the humanities and social sciences. This summer's work allowed me to conduct a valuable comparative analysis of scribal education systems and how these two very different cultures taught and learned the art of writing."
Launched in 2018, the CSI offers undergraduate students the opportunity to "apprentice" with faculty, curators, and other senior scholars at UChicago, learning firsthand proper research skills in the arts, humanities, and humanistic social sciences. Unlike a graded course, undergraduate research allows students to learn how to ask and pursue research questions; free from the risk of failure, it encourages creativity, experimentation, and mistakes, all of which affirm what academic research entails.
Ware's faculty mentor,  Susanne Paulus, found it rewarding to see CSI undergraduate students thrive and bring in their ideas and skills. "My students were wonderful and integrated well in the team and made important and vital contributions to the exhibition project," said Paulus, associate professor in the Department of Near Eastern Languages and Civilizations. For the ISAC Tablet Collection research team, it was also important that students work on projects and publications, which can help them advance in their careers.
"Sarah became very involved in a children's book project for the exhibition," Paulus said. "She did the entire layout and design of the project. Another CSI student, Danielle Levy, concluded her experience by publishing an article [in the ISAC News and Notes Magazine]. She also contributed her photographs for our catalog."
Not only do CSI students collaborate with their faculty mentor, but they also work closely with UChicago librarians, graduate students, and one another. This has encouraged "a stronger community among our scholars," notes Nichole J. Fazio,  associate dean of Undergraduate Research and Scholars Programs and executive director of the College Center for Research and Fellowships (CCRF). "During the CSI, we also see how generous our undergraduates are with one another—working together, testing out ideas, and providing constructive feedback on, for example, their closing presentations."
For Tiya Bolton, who supports the CSI as a graduate assistant and student mentor, it has been an eye-opening experience to view the CSI from a different perspective. It exposes both the interest that undergraduate students have in collaborating, and how collaborative work can be explored further in her field.
"These undergraduate students, they're all so brilliant," said Bolton, a fourth-year PhD candidate in the Department of Cinema and Media Studies. "I'm learning with them when it comes to thinking about research, how to do it well, and do it ethically. I wish I had a similar experience while I was in undergrad.
"In STEM, there are more opportunities to do collective research, and CSI students frequently questioned how to effectively implement that model in the humanities and humanistic social sciences. In my field, for example, the sort of discourse media scholars are having is very distinct from the discourse within the media itself. I don't want to be an isolated media scholar; I'd like to do research collectively and communally. CSI helped me think about these questions further."
One of the CSI research partnerships this year was with the Hanna Holborn Gray Special Collections Research Center, housed within the Regenstein Library. Elizabeth Frengel, curator of Rare Books, and her team worked with CSI student Sam Remondi, an English and Philosophy double major. Frengel and Remondi conducted research and developed a web page dedicated to the study of the Taschenbücher Collection, which serves as an enduring testament to the changing world of German literary and material culture from the late 18th to mid-19th centuries.
"This is an exciting partnership with great potential for future collaborations as we actively engage the library as the 'laboratory' of humanistic and creative research," Fazio said. "The Regenstein Library team is also vital for the success of CSI students."
The CSI's primary campus partner is the Franke Institute for the Humanities, which generously provides a physical home for the CSI each summer. There, CSI students become acquainted and learn best practices for research.
"The CSI workshops were incredibly helpful as I consider my research goals and trajectory after college," Ware said. "Having learned from these workshops and from the exercise of preparing for and presenting at the symposium, I feel much more confident in my work and my ability to share it."
According to Fazio, undergraduate research is a transformative, high-impact learning opportunity, providing students with vital academic mentorship, as well as transferable skills for their careers after UChicago. Notably, the CSI program also sets them up for success when applying to graduate programs and for major national fellowships, including Fulbright and Beinecke.
In fact, UChicago's 2023 Beinecke Scholar, Amanda Chacón, is a CSI alum and spent the summer of 2022 working on art historical research helpful for her Beinecke and graduate school applications. Currently, the CSI can fund up to 25 summer research appointments annually compared to 15 students in 2018. 
For Fazio, the future of the CSI is growth. "Offering more students the opportunity to pursue mentored creative and humanistic research is a priority for us," she said. "[It] also allows us to help advance the arts, humanities, and humanistic social sciences by inspiring future researchers, scholars, and practitioners in these fields."
For a complete list of the students and faculty mentors who participated this year, please visit the 2023 College Summer Institute Closing Symposium page.
If you would like to learn more about the program, visit CCRF's College Summer Institute page.
--------------------------
Seeking CSI Research Mentors
Faculty, are you interested in becoming a CSI research mentor?
If you have a current research project that would benefit from the energy and ambition of our UChicago undergraduates and would also provide valuable research experience for them, please contact Nichole J. Fazio (nfazio@uchicago.edu; 773.702.7157). Mentors are responsible for providing general oversight and direction to their CSI researchers across the nine-week summer program.
Support the program: If you are interested in supporting the College Summer Institute by helping to provide more grants for future CSI student scholars, please contact:
Christina Fountain
Assistant Vice President, Development
Associate Dean of the College
The University of Chicago 
cfountain@uchicago.edu 
Office: 773.702.7343