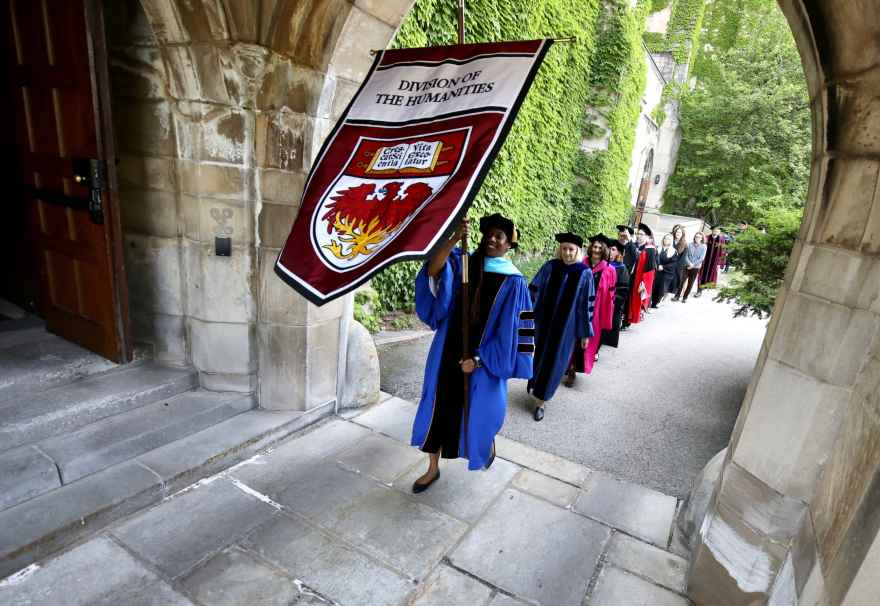 By Sara Patterson
Division of the Humanities graduates, faculty members, and the graduating students' families and friends celebrated the 537th Convocation ceremony in Rockefeller Chapel from 4:30 to 5:30 p.m. on June 2, 2023. This is the last year that Anne Walters Robertson is serving as Dean of the Division of the Humanities, and the first year for the new Stuart Tave Course Design Awards honoring graduate students for exemplary course design in teaching undergraduate students.
"At every convocation, we are proud to celebrate the achievements in scholarship and teaching of our faculty and students," said Anne Walters Robertson, Dean of the Division of the Humanities and the Claire Dux Swift Distinguished Service Professor in the Department of Music. "I am so pleased that at this, my final convocation as dean, we are launching a new award for excellence in course creation by graduate students: the Stuart Tave Course Design Award."
In addition to celebrating the accomplishments of more than 150 graduating students with master's and doctoral degrees, four leaders in the Humanities Division, including Dean Robertson and Dean of Students Shea Wolfe, recognized 10 students and faculty for their stellar achievements.
Dean's Award for Graduate Student Teaching Excellence
For the Dean's Award for Graduate Student Teaching Excellence, Laura Colaneri exemplifies the outstanding teaching skills sought for this Award. According to Prof. Miguel Martínez, her organizational skills, caring attention to individual students, and ability to teach the course independently set her apart. Colaneri has also successfully taught language and literature courses to undergraduate students through the Department of Romance Languages and Literature.
In addition to teaching and working toward her doctoral degree, she served as the coordinator of the Workshop on Latin America and the Caribbean from 2018 to 2020 and as president of the Hispanic and Luso-Brazilian Studies Student Committee, which has significantly collaborated on campus-wide student-led initiatives. Colaneri helped to organize several graduate student conferences with students from UChicago, University of Illinois at Chicago, and Northwestern University.
Martínez describes her as "a caring and driven leader," whose work has contributed greatly to the intellectual life of the department and to the quality of its human relations.
Stuart Tave Course Design Awards
The inaugural Stuart Tave Course Design Awards recognize three graduate students who have shown truly outstanding performance in exemplary course design and syllabus construction. The first recipient is Catrin Dowd in the Department of Music. She is working toward a joint doctoral degree in Music and Theater and Performance Studies.
Dowd created a course "Performing the U.S. Supreme Court," springing from her fascination with the performative dimensions of the U.S. Supreme Court. She investigated in-depth the well-known interests in both staged performances and performing outright on the part of certain prominent Supreme Court judges, notably the now deceased Ruth Bader Ginsburg and Antonio Scalia. From there, Dowd considered courtroom dramas surrounding select cases as themselves sites of performance in the broad sense proper to performance studies.
According to Prof. Martha Feldman, she developed "a thoroughly remarkable course" with a syllabus of 18 pages, which explains the course in way that is totally thought-through and riveting intellectually. This topic is not in Dowd's dissertation area, which makes her command over a whole array of Supreme Court cases and historical contexts even more remarkable.
The second recipient is Sam Gray in the Department of Linguistics for the course he developed called "Constructed Languages." He used the popular trend of constructing languages as a lens through which to understand various aspects of the grammar of human language and the social functions of language and ideologies around varied linguistic properties.
Through this class, undergraduate students examined the many reasons that people construct languages and the various challenges and pitfalls that often occur. Over the duration of the course, students had to build their own constructed language.
"Using constructed languages as a springboard for understanding language in general is a superb idea that I am intending to test on a small scale in my course 'Introduction to Phonetics and Phonology,'" said Jason Riggle, associate professor in the Department of Linguistics.
This year's third recipient of the Stuart Tave Course Design Award is Rivky Mondal in the Department of English Language and Literature for her course "Women of the Avant Garde," which occurred over Zoom during the pandemic in Winter Quarter 2021.
According to Assoc. Prof. Julie Orlemanski, Mondal created a "powerful, innovative class," which introduced her students to both the avant-garde experimentation of modernism and feminist analysis and to methods of archival research in literary history. Her course asked undergraduate students to put their research skills to use in the task of feminist historical recovery.
Mondal pursued several learning objectives at once—students' building archival research skills from a foundation of curiosity, gaining familiarity with the challenging aesthetics of avant-garde artistic practice, enacting a feminist ethics of archival recovery that partakes of some of the originality of the art revived and appreciated, and facilitating robust intellectual exchange and communities of learning despite the constraints of the COVID pandemic. "She incorporated research skills and outcomes alongside exciting intellectual content—and the students loved it," Orlemanski said.
Distinguished Dissertation Award
This year's Distinguished Dissertation Award is given to Alexander Murphy in the Department of East Asian Languages and Civilizations for his groundbreaking research and exceptional writing skills for his dissertation "What the Ear Sees: Media, Performance, and the Politics of Voice in Japan, 1918–1942." According to Prof. Michael K. Bourdaghs, Murphy's dissertation provides a "path-breaking study of shifting ideologies and practices of the 'voice' in Japanese literature, popular music, and through from the 1920s through the 1940s."
His work is an interdisciplinary project, combining methodologies from literary criticism, media studies, and ethnomusicology to understand the new conceptualization and practices of voice that emerged in early 20th-century Japan. To sum up his accomplishments, Assoc. Prof. Travis A. Jackson wrote, "I consider Alex to be one of the most creative, intellectually mature and promising students I have encountered in more than two decades."
Further Jackson describes Murphy's dissertation as working in multiple registers with sound and the voice as conduits to a new understanding of nation, personhood, technology, and race.
Janel M. Mueller Award for Excellence in Pedagogy
For the Janel M. Mueller Awards for Excellence in Pedagogy, two recipients—David Reinhart and Juliano Saccomani—were honored this year. Reinhart is an assistant instructional professor in the Department of Linguistics and the College who specializes in American sign language (ASL). For the students, his courses are immersive, participatory without using any verbal communication, focusing on learning and communicating by using ASL.
He creates and uses video clips and materials on Canvas extensively for his classes. Students learn more than ASL. Reinhart teaches them about deaf culture and how it has evolved over the years. Outside of the classroom, he convenes ASL film nights, engages students with the deaf community in Chicago, and collaborates with the broad ASL research community on campus.
The Chair of the Linguistics Department Chris Kennedy credits Reinhart's energy, enthusiasm, and thoughtful and caring commitment to his craft and to his students for making ASL instruction stronger than it has ever been at UChicago.
Saccomani is an assistant instructional professor in the Department of Romance Languages and Literatures, specializing in Spanish and Portuguese languages. He has received grants to develop virtual reality content and accompanying pedagogical materials for his language courses.
In 2022, Saccomani received the Provost's Global Faculty Award for Latin America and the Caribbean, allowing him to travel to Brazil and continue his work on the virtual reality project. According to the Portuguese Language Program Director Ana Maria Lima, he "has worked tirelessly to increase our visibility on campus by promoting course offerings, workshops, and cultural activities and is an essential part of the Portuguese Program."
Saccomani serves as editor-in-chief of the magazine, Revista Vaerenda, which involves working closely with students. He helped to organize the Illinois Portuguese Language Connection.
Faculty Award for Excellence in Graduate Teaching and Mentoring
The first recipient of the Faculty Award for Excellence in Graduate Teaching and Mentoring is Paola Iovene, associate professor in the Department of East Asian Languages and Civilizations and the College. She is a tireless supporter of graduate students in her department and has made significant and long-lasting contributions to both their educational and professional development.
Her innovative ideas about how to effectively mentor and care for student needs at all stages are a valuable model for her colleagues and testify to the seriousness with which she approaches the work of mentoring. The creativity and energy Iovene bring to this work, paired with boundless patience and curiosity, are a source of inspiration for her advisees and help to nurture and sustain the intellectual life and community for her department.
The second recipient of the Faculty Award for Excellence in Graduate Teaching and Mentoring is David E. Wellbery, the LeRoy T. and Margaret Deffenbaugh Carlson University Professor in the Department of Germanic Studies, John C. Nef Committee on Social Thought, and the College. He also serves as chair in the Department of Germanic Studies. As a charismatic and inspirational teacher and a caring and transformative mentor, Wellbery has deeply affected the lives and careers of countless students and, in the process, left an indelible mark on the discipline of Germanic studies in the United States and beyond.
By providing an example of extraordinary intellectual virtue as a scholar and teacher, he has guided his students to become original and creative thinkers in their chosen area of specialization. His conviction that literature and art matter and that philosophy helps us lead better lives, together with his unparalleled magnanimity and patience, makes him an exceptional mentor—who remains a valuable resource to his students throughout their careers.
Bobbi Josephine Hernandez-Sze A.M. 1993 and Morgan Chia-Wen Sze M.B.A. 1993 Teaching Award
Assoc. Prof. Ellen MacKay in the Department of English Language and Literature, the Theater and Performance Studies Program, and the College received the Bobbi Josephine Hernandez-Sze AM 1993 and Morgan Chia-Wen Sze MBA 1993 Teaching Award. She came to UChicago in 2017 and has left an indelible mark in early modern studies, theater and performance studies, and the study of Shakespeare, according to Deborah L. Nelson, chair of the Department of English Language and Literature.
MacKay gives her students access to performance practices of the early modern stage and introduces them to digital platforms for the study of early modern theater in Renaissance England. Known for her accessibility and ability to serve as a mentor, she supports students' own interests and invests in their intellectual development, according to one of her students.
College Awards at University of Chicago Convocation Ceremony
Robert Kendrick, the Robert O. Anderson Distinguished Service Professor of Music in the Department of Music and the College, received the Llewellyn John and Harriet Manchester Quantrell Award for undergraduate teaching. According to Kendrick, UChicago undergraduate students most impress him by their curiosity and willingness to state their own perspectives boldly in the classroom.
"It is wonderful to see them develop interests in things about which they had no idea previously," he said. "One of my students told me that she listens to Italian Baroque opera all the time now, never having experienced it before."
A key moment in his classroom occurred when his undergraduate students watched the original choreography of Stravinsky's "Rite of Spring." According to Kendrick, his students came alive through the combination of the ballet's visual aspects, Modernism, striking musical gestures, and overall place in the European culture.
Additionally, he admires the intellectual independence of UChicago students and their willingness to make arguments even against the opinions of instructors or source texts.
Kendrick followed an unusual path to his professorship at UChicago. After receiving a bachelor's degree from the University of Pennsylvania, he became an autoworker and union activist. After a decade, Kendrick returned to school, earning his PhD in musicology from New York University.
At the end of the academic quarter, he asks his students to listen with open ears. "Just as they discovered repertories and styles new to them in the classes, so life will bring them new kinds of sounds and historical situations," Kendrick said. "Keeping an open mind will be of great importance to their future."
Asst. Prof. Jason de Stefano in the Humanities Collegiate Division and Asst. Instructional Prof. Aidan Kaplan in the Department of Near Eastern Languages and Civilizations received the Glenn and Claire Swogger Award for Exemplary Classroom Teaching. Graduate student in the Department of Romance Languages and Literatures, Beatric Fazio, received the Wayne C. Booth Prize for Excellence in Teaching. Learn more at https://college.uchicago.edu/news/uchicago-instructors-grad-students-honored-exemplary-teaching