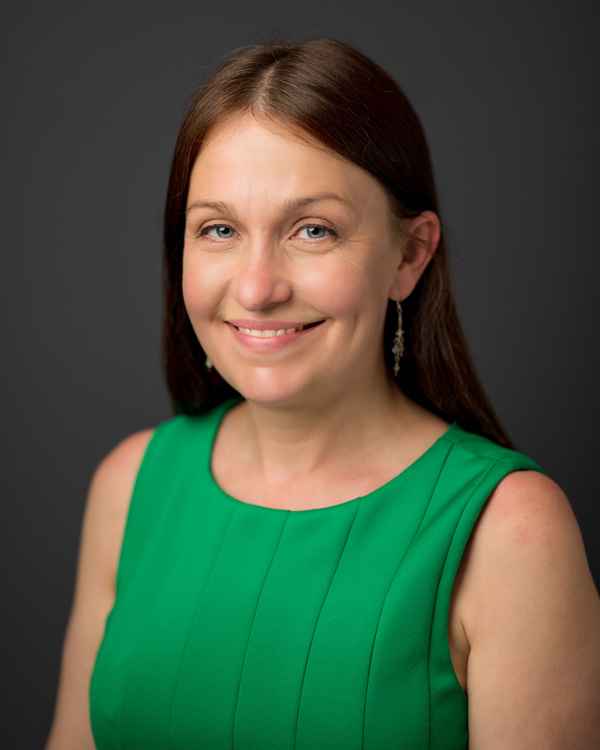 More than 100 staff members work in the Division of the Humanities. We'll introduce you to our staff in this continuing series.
Jennifer Woodrum
Artistic Operations Manager
Music Department

What do you like most about your job?
I absolutely love getting to meet and work with the amazing Don Michael Randel Ensemble in Residence artists. I spent many years of my career as a touring musician and was often a visiting artist at universities nationwide. It brings me great joy to have the opportunity to support artists that come to UChicago with meaningful, relevant, and impactful residency activities on campus and in our surrounding community. I also love getting to step out of my office, away from my computer, and observe musicians rehearse, perform, and truly become embedded in the ecosystem of our UChicago community for the brief time they are here.
I also really like getting the chance to explore this beautiful campus and Hyde Park. This job keeps me very busy, but I never regret taking the time for an afternoon stroll. There are so many beautiful green spaces, incredible architecture, and, of course, a multitude of great coffee shops, restaurants, and shops.
I must mention that I greatly appreciate my colleagues here. I greatly value, trust, and admire everyone I work with and feel that reciprocated consistently.

What was the last good book you read?
I recently read American Dirt by Jeanine Cummins. It was an eye-opening glimpse into the horrific impact drug cartels continue to have on the people of Mexico, told by a mother seeking refuge in the United States with her 8-year old son. It was by no means an easy read, but I'm not one for light fiction. I'm almost finished with Michelle Obama's newest book, The Light We Carry. I've really enjoyed her perspective on parenting, especially now that Sasha and Malia are in their 20s, which is so hard to believe! As a parent, I'm inspired by her commitment to cultivate resilient and independent daughters from a very young age into adulthood.
You might work with me if …
you are in the Music Department, especially if you need me to process a payment for anything related to our Performance Program. I work closely with the UChicago Presents team, our department faculty, and performance directors in coordinating residency activities. You might also work with me if you are part of the Humanities team that processes payments for our department. I look forward to connecting with other departments across campus as we cultivate more interdepartmental collaborations with our artists in residence and community engagement activities.
What led you to your career path?
I have three degrees in Music Performance. I still freelance with orchestras and chamber ensembles throughout the Chicago area. I've also spent many years teaching clarinet at colleges in Wisconsin and Illinois. I made the switch to higher education administration because I began to feel limited with the impact  I could have on the field of music education because I only taught clarinet. I am also drawn to being in the physical space of academia. I love being around the energy of college students and overhearing classroom discussions, without having to do any assignments.
Also, I reached a point in my life where I longed for more financial stability than I was able to find in the freelance economy. As I've told many people, my career started to feel like a plateful of snacks, and I wanted a well-balanced meal. I feel like I've finally found that in this role!