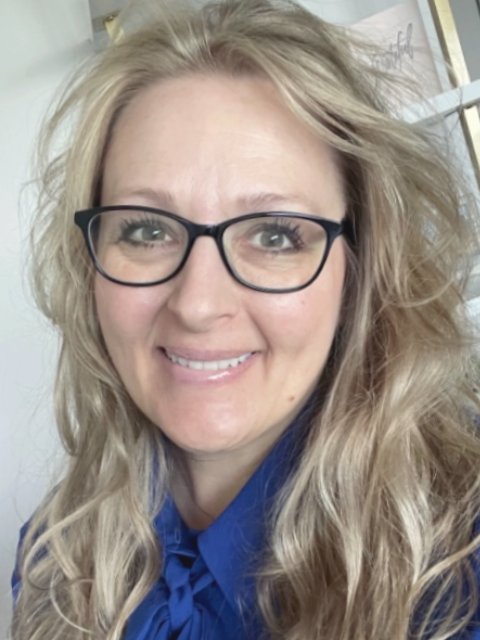 More than 100 staff members work in the Division of the Humanities. We'll introduce you to our staff in this continuing series.
Molly Heiler
Director, Human Resources
Office of the Dean
What do you like most about your job?
I get a great deal of satisfaction developing relationships with diverse populations at all levels and positively impacting the employee experience, from the moment a candidate considers applying for a position, to staff engagement, and offboarding staff as they transition out of their role.
We spend so much time at work, and it's exciting for me to help make that time as rewarding as possible. I like to help people see their value and understand how they contribute to the success of the institution. I truly believe people are the heart of every organization, and individuals bring unique talents and perspectives that, when allowed to thrive, contribute to a highly engaging workplace.  I also enjoy putting resources together, establishing best practices, enhancing processes, and more. The field of HR allows me to do all of this. I especially like working in higher-education because it is an environment of learning and growth.
What was the last good book you read?
I enjoyed reading The Four Agreements: The Practical Application of Don Miguel Ruiz's Second and Third Agreements.
You might work with me if …
you have questions about the employee lifecycle and/or people operations including recruitment, hiring, onboarding, offboarding, strategic planning, employee relations, organizational effectiveness, change and performance management, employee engagement, performance management, leadership coaching, succession planning, payroll, benefits, finding ways to foster a culture of growth, high-performance, wellbeing, and belonging, and more.
Is there something you've been learning about that's been an exciting or unexpected discovery?
I'm currently volunteering as a Mentor with Chicago Scholars. It has been an incredibly meaningful and eye-opening experience to engage with academically ambitious students from under-resourced communities to better understand their experiences and help guide them throughout the college admissions process, transition to college, and their first year of college classes.