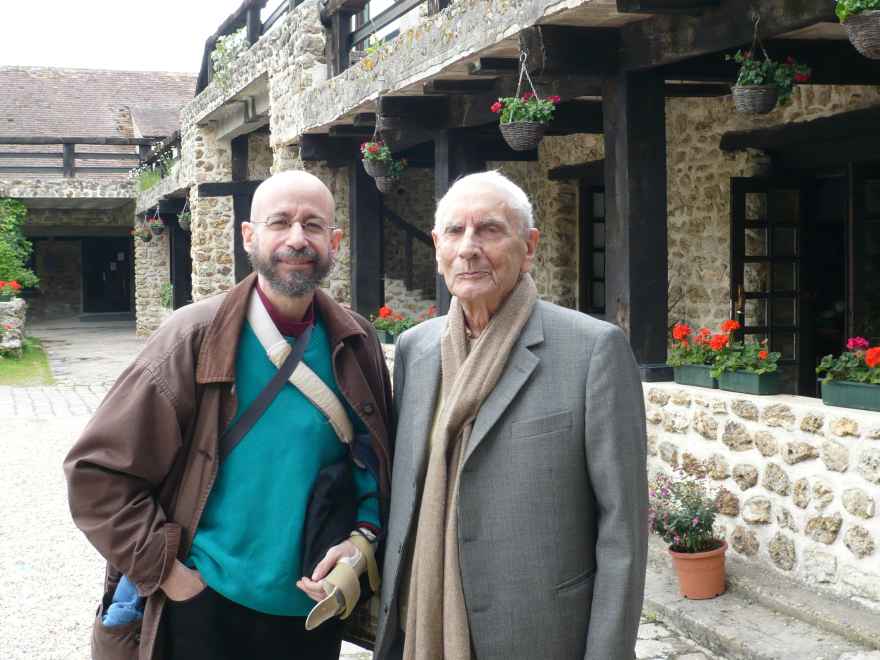 By Sara Patterson
For his exceptional contribution to teaching and promoting French thought and culture, Arnold I. Davidson has received the rank of Commandeur in the Ordre des Palmes académiques and will be honored at the French Consulate in Chicago in the fall of 2021. This achievement is the highest-ranking academic honor of the French Republic and is available to both French and international academics who make major contributions to French national education and culture.
Mesmerized by French philosophy, literature, and music during his teenage years, Davidson taught himself the French language. At the age of 19, he met the French philosopher Michel Foucault, who made an indelible impression on Davidson's work and strongly influenced his wide-ranging interests.
"Throughout his career, Arnold has thoroughly immersed himself in French culture and thought without regard to disciplinary boundaries," said Anne Walters Robertson, Dean of the Division of the Humanities. "Michel Foucault and Pierre Hadot were influential mentors who guided his lifelong quest for knowledge in French philosophy, which expanded into other fields of study. His masterful English edition of 13 volumes of Michel Foucault's courses taught at the Collège de France contributes toward broadening and defining Foucault's legacy to students of multiple generations."
In addition, Davidson co-edited Michel Foucault's book on Philosophie (2004), an anthology of his writings; wrote the influential book The Emergence of Sexuality: Historical Epistemology and the Formation of Concepts (2001), which has been translated into French, Portuguese, Spanish, and Italian; and co-authored La philosophic comme manière de vivre (2001) with Pierre Hadot and Jeannie Carlier, which has been translated into approximately ten languages. His most recent book on the philosophy of music, Gli esercizi spirituali della musica (2020), was written and published in Italian and shows the continued influence of French work on his thought.
"The French showed me how philosophy could become part of contemporary cultural discourse without oversimplifying its own ideas," said Davidson, the Robert O. Anderson Distinguished Service Professor in the Departments of Philosophy, Comparative Literature, Romance Languages and Literatures, the Committee on the Conceptual and Historical Studies of Science, and the Divinity School. "If philosophy doesn't participate in discussions of our most pressing intellectual and cultural problems, then it is not doing what, in my opinion, it should be doing.
"There are many American philosophers who think that philosophy should be an insulated, semi-technical discipline. That is not my vision of philosophy. All things considered, if philosophy cannot help us lead a better life, then it is not carrying out what has been, historically, one of its principal tasks. And French philosophy has helped me to keep this ancient ideal alive."
For many years, Davidson has worked collaboratively with his UChicago and other university colleagues, the French-Chicago Center, and the French Consulate in Chicago to enhance the knowledge and experience of French art, science, and culture for the Chicago community through scientific discussions, seminars, film screenings, and musical performances. He also helped organize the humanities curriculum at the UChicago Center in Paris.
"When I invited Arnold to join the board of the French-Chicago Center, it was one of the best decisions I ever made," said Robert J. Morrissey, Executive Director of the French-Chicago Center and the Benjamin Franklin Professor in the Department of Romance Languages and Literatures at UChicago. "He is a wonderful contributor and colleague, he is generous intellectually, and has tremendous knowledge about France, its culture, its philosophical sensibilities, and its institutions. He deserves to be a Commandeur because of all he has contributed to developing intellectual partnerships in a range of disciplines."
Davidson gives credit to the UChicago intellectual environment that allowed him to pursue so many aspects of French culture. "I came to UChicago in 1986 with the desire to help foster intellectual relationships and I hope that I have done this," Davidson said. "I also hope that I have transmitted my enthusiasm for French thought to my students and that they, in turn, will transmit this enthusiasm to their own students. Thought without enthusiasm lacks vitality and, from my point of view, French culture is a permanent space of vitality."