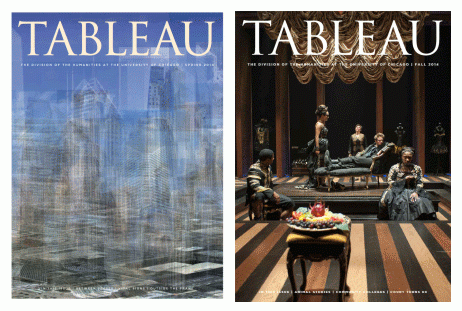 The Division of the Humanities' bi-annual magazine, Tableau, was honored with a silver award in the category of external audience newsletters from the Council for the Advancement and Support of Education (CASE), during the organization's annual Circle of Excellence competition.  
The Circle of Excellence awards acknowledge superior accomplishments that have a lasting impact and optimize the best work of campus communicators. CASE judges noted they "could hardly put down this stunning publication with its visually arresting presentation," and that the magazine "delivers a wonderful portrait of the value of the humanities."
"The CASE award is a testament to the strength of the Tableau editorial team," said Martha T. Roth, Dean of the Division of the Humanities. "Tableau excels because it showcases the robust humanities scholarship of our faculty members, gradaute students, and alumni."   
Tableau is a collaborative project between the Division of the Humanities and Alumni Relations and Development. The winning Spring and Fall 2014 entries recognize the work of former editor Elizabeth Station and current editor Jeanie Chung; contributing editors Sarah Yatzeck Farrell, Courtney C.W. Guerra, Carl Nash, Tom Popelka, and Adrianne Renberg; editorial manager Amy Braverman Puma and executive editor Mary Ruth Yoe; writers Susie Allen, Lydialyle Gibson, Carrie Golus, Brook O'Neill, and Claudio Vellutini; proofreader Laura Adamczyk; and designers Guido Mendez and Tom Tian.
Read about other Circle of Excellence award winners from UChicago here.