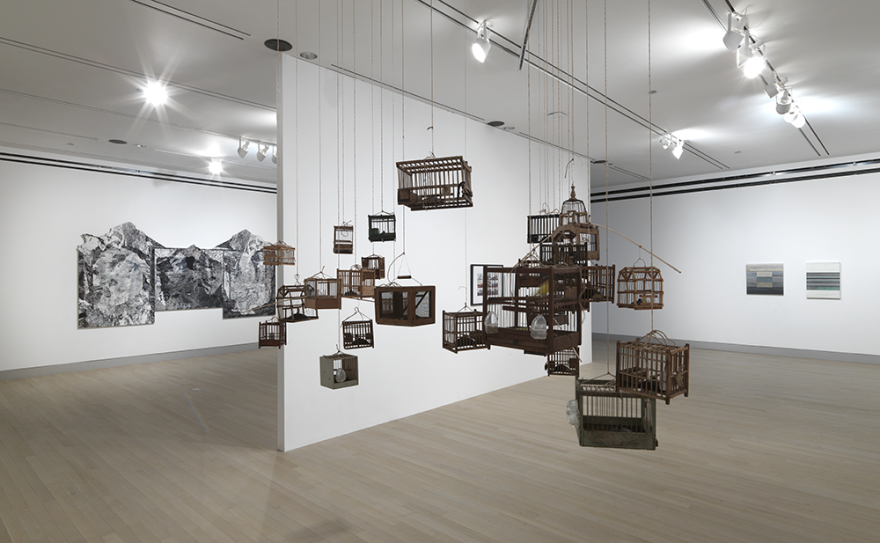 Lands End co-curators Zachary Cahill (MFA'07) and Katherine Harvath (MFA'13) answered a few questions about the exhibit and the curatorial process. Lands End is on display through March 15, 2015, at the Reva and David Logan Center for the Arts.
Describe the exhibit in 15 words or less.
ZC: It's a landscape show.
Where did the idea for Lands End come from?
ZC: For me it started when I was a graduate student here studying landscape with W.J.T. Mitchell, who opened my eyes to what a vast subject landscape is. More recently it grew out of an essay I wrote called "Earth Without Aura" in the journal Mousse and then grew through conversations with Katherine and the artists. We wanted to have a different title from "Earth Without Aura" to reflect some of those changes and also to ground the show here in Chicago: the clothing retailer Lands' End started here on the South Side.
Did you have a singular vision for the show or is the result a true mix of both curators?
ZC: Any curatorial venture is by it's very nature a collaborative effort....from Katherine and I to Camille Morgan, Logan Center Exhibition's curatorial coordinator, to Marcus Warren the chief preparator to Mitch Marr in charge of marketing to David Giordano and Josh Babcock who worked on design, and of course the artists that make the work....there is just so much that goes into making an exhibition. I/we couldn't be happier in how it came together.
Did you have some of the pieces from Lands End in mind before you finalized the show, or did you start with the exhibit idea and then searched for artists?
ZC: Well both at once actually....and then the ideas for the show evolved with new artists we came across.
You're both working artists and visual arts teachers. What does curating a show like this do for you in your own work? 
KH: All of those roles—artist, educator, curator—really feed each other. Research for one tends to lead to another. Curating this show, talking to artists both who I've admired for a long time and am just getting to know definitely drives me to get in the studio and to rethink ideas of image and installation that I see them working out. I'll probably introduce students to Oliver Lutz's work and am thinking a lot about Andreas Siqueland's paintings in relation to my own practice, for example.
Do you have a personal favorite piece in the exhibit?
KH: I don't have a favorite piece!  In the end I think we felt really happy with the ensemble. Ideally a group show has moments of coordination and contradiction—I think this show does that. Where some artists veer to the political, another really embeds themselves in material or genre. I like how Claire Pentecost uses coal miner's canary cages, petroleum coke, and Delirio (our beloved resident canary) to poetically address resources and create a kind of warning. I like how Carrie Schneider uses photography to stand in for an intensive performative sculpture - building and burning down a sculpture/house repeatedly in a Sisyphean gesture. All of the artists are using charged material to talk about land and image
What do you hope visitors come away with from the exhibit? 
ZC: I hope that people can get a broader understanding of the genre of landscape and recognize that even the traditional understanding of landscape (painting) is infused with ideas which range from surveillance to territorial disputes to the environment and problems around property and foreclosures and beyond. Landscape is literally where we live and ultimately I'd like for people to think long and hard about how we treat the landscape and each other. Ideally Lands End will influence a certain amount of care—a kind of stewardship if you will—of life on the planet.