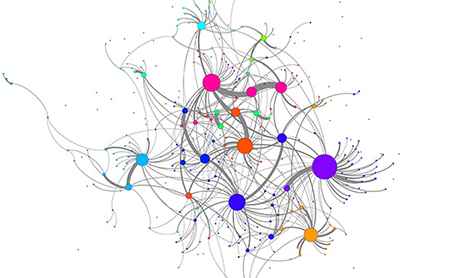 The admixture of scholarship and computing has become an accepted element of humanities research, as essential as the once-novel technologies of print media, image reproduction, and audiovisual recording. While there's fluidity to the term "digital humanities"—it can refer to anything from research that relies on computation to scholarship that examines technology itself—its broad scope provides fertile ground for some of the most exciting and innovative work being done throughout the humanistic disciplines.
UChicago faculty members were leading digital humanities projects before the label even existed, using computation to analyze large data sets and developing online repositories that facilitate access to images and texts. Some of the most prominent initiatives in recent years have collected information about specific film scenes (Cinemetrics, led by Yuri Tsivian in Cinema and Media Studies), created a database for digitized French literature (ARTFL, led by Robert Morrissey in Romance Languages and Literatures), and tracked the international distribution and reception of literature across the United States, Asia, and Latin America (Global Literary Networks, led jointly by Hoyt Long in East Asian Languages and Civilizations and Richard Jean So in English). But this is just a small subset of the computationally inflected projects taking place across the Division of the Humanities. The recently launched Digital Humanities Forum provides an interdisciplinary discussion venue for faculty members whose work engages with contemporary technology.
In response to the increasingly integral role of the digital—and building on the Division's substantial faculty expertise—the Master of Arts Program in the Humanities (MAPH) is introducing a new Digital Humanities program option beginning in 2015–16. Under this new option, graduate students interested in the intersection of computation and traditional humanistic scholarship will have the opportunity to explore the basics of computer programming, the development of software tools, and the interpretive methods necessary for critical analysis.
By creating a MAPH option dedicated to the digital humanities, the University is recognizing the importance of computational training for the next generation of scholars. Graduates of the program will have a well-rounded background that combines technological proficiency with the intellectual rigor distinctive to a UChicago education.