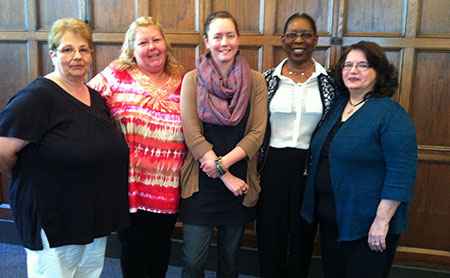 Joyce Kuechler's commitment to students has been recognized with the Marlene F. Richman Award for Excellence and Dedication in Service to Students. Kuechler, Department Coordinator for the Department of Art History, was praised in her nominations as a thoughtful and caring student advocate who offers a "mixture of compassion and practical advice."
"This award is such an incredible honor and it means so much to me. It validates all of the work I've done for students over the past three years. It's wonderful to receive this recognition and it makes me want to continue to support and provide excellent service to grad students in the art history department," said Kuechler.  
For the past 11 years, the Marlene F. Richman Award has honored the legacy of revered counselor and UChicago Resident Master Marlene F. Richman. The annual award is bestowed upon an individual who deserves recognition for their excellence and dedication to students. Previous awardees from the Division of the Humanities include Alicia Czaplewski (South Asian Languages and Civilizations), Kathy Holmes (Music), Kathy Fox (Classics), and Juanita Denson (Romance Languages and Literatures).