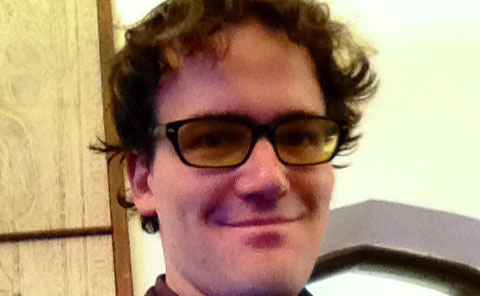 Stephen Pannuto, a graduate student in English Language and Literature, was awarded the 2014 Bridge Builder Award for his role in "Disability Matters," a series of public lectures and workshops focused on building a community interested in disability as a lived experience and a critical category.
The Bridge Builder Award, administered by the Office of the Reynolds Club and Student Activities, recognizes students whose work on campus establishes or supports connections between student groups or individuals. To this end, Pannuto co-founded the Organization of Students with Disabilities (OSD) and co-organized the "Disability Matters" series. Pannuto characterizes his work with OSD and "Disability Matters" as building the infrastructure to produce a safe and inclusive environment for students to disclose their disability while establishing the groundwork for disability to be claimed "as an identity alongside and intersecting with other forms of identity."
"Disability Matters" brought together students and faculty from across disciplines to discuss the emerging field of disability studies. The inaugural lecture, offered by disability studies scholar Rosemarie Garland-Thomson, was attended by more than seventy people and "produced a sense of community among students with disabilities," said Pannuto. The series, made possible by a Graduate Student Innovation Grant, also modeled the required conditions for a safe and fully inclusive space for students with disabilities. Following the Thomson lecture, Pannuto recounted that "a legally blind person, who usually doesn't use his cane on campus, told me this was a place he wanted to use his cane."
"I felt like I had made the university a place I wanted to be," said Pannuto, who lost a substantial portion of his vision due to a degenerative retinal condition. "I learned from this experience that in addition to my individual dissertation work that I can use my interest and knowledge in the humanities to do institutional, social, and civic world building."