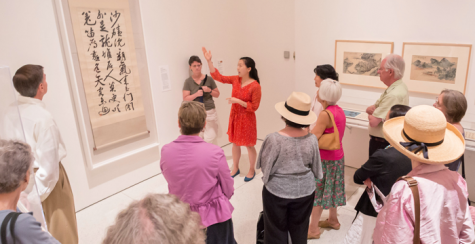 Eleanor Hyun, a PhD candidate in Art History, shared her expertise in Korean and Chinese art during a lecture at the Smart Museum of Art on calligraphy and brush-and-ink painting from Korea's Joseon Dynasty (1392–1910). The lecture was part of a Smart Museum exhibition titled "From the Land of the Morning Calm." From the article:
While Western artists frequently depicted the human figure, in East Asia calligraphy was considered the highest art form, Hyun said. But calligraphy did incorporate the body: the brush was thought of as an extension of the arm, and the precise strokes were likened to martial arts. Characters were often described in corporal terms, such as "meaty" or "skinny." Referring to Yi's calligraphy of a poem by renowned Joseon-dynasty writer Sin Heum, Hyun pointed out the vigorous, semicursive characters: "If anybody here has ever touched ink and brush, you know how easy it is to make a stray mark, a drop here or a drop there." To achieve the sort of balance and rhythm displayed in Yi's work required intense concentration and mastery of the discipline.
For more information about the Smart Museum and upcoming exhibitions, click here.