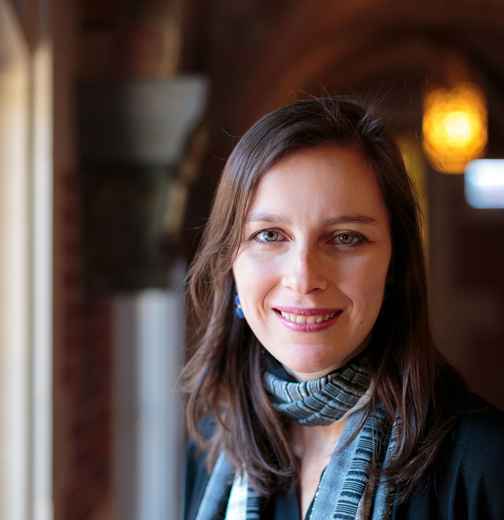 By Sara Patterson
For her rigorous research and original approach to connecting electrical energy and culture production in Brazilian literature and art from 1930s to the present, Assoc. Prof. Victoria Saramago received a $60,000 Fellowship from the National Endowment for the Humanities (NEH) on Jan. 10. Her book project "Against the Current: Electrification and Cultural Production in Brazil Anthropocene" will investigate the multiple ways in which Brazilian artistic practices have shaped perceptions of the production and consumption of electrical energy, and how electricity has enabled, affected, and, sometimes, destroyed cultural objects.
Saramago contends that modern Brazilian artists have addressed electrification critically, skeptically, and ironically, countering the narrative of progress found in 20th- to early 21st-century Brazilian politics. Their critical views question one of the most basic assumptions from post-World War II to today: that a reliable and growing supply of energy is vital for modern life.
"Victoria Saramago's scholarship is at the cutting edge of the contemporary environmental humanities and in particular Latin American ecocritical studies," said Alison James, professor and chair in the Department of Romance Languages and Literatures at UChicago. "More broadly, Victoria's scholarship challenges us to reflect on the complex entanglements of representations and reality.
"Also, her work in the Department of Romance Languages and Literatures has been crucial to developing our curriculum in Luso-Brazilian literatures and cultures. Her prizewinning and extraordinarily wide-ranging first book, Fictional Environments: Mimesis, Deforestation, and Development in Latin America (2020), asks how canonical works of 20th-century Latin American fiction respond to deforestation and climate degradation and intervene in our perception of environmental change, even shaping conservationist policies."
Saramago had two foundational reasons for starting this project on the inherent danger of electricity for history and the cultural objects. First, she remembered the critical remarks about the electrification in farms and regional capitals of Brazil from Brazilian writer Graciliano Ramos through research done for her master's thesis on insomnia in fiction from the 1930s to 1950s. The second was the tragic destruction on Sept. 2, 2020, of most of the 146,000-square-foot National Museum of Brazil and 92.5 percent of its vast cultural, art, zoological, and Indigenous people linguistics collections due to a short circuit in its air conditioning that started an uncontrollable fire.
"My anger over this tragic fire helped me to connect with my concerns about electricity and build the argument for the book," said Saramago, associate professor in the Department of Romance Languages and Literatures at UChicago. "This was when I realized that a study of electricity's impact had to go beyond the methodologies we usually adopt in literary and cultural studies."
This book project also builds on research she did for first book, Fictional Environments, which won the Brazilian Studies Association's Roberto Reis Book Award and received an honorable mention at the Antonio Candido Book Award from the Brazil section of the Latin American Studies Association.
"This honor is so well deserved," said Brodwyn Fischer, professor in the Department of History at UChicago. "Victoria is just all around fabulous—a creative, energetic, highly original force in the transnational field of Brazilian Studies, a generous interdisciplinary colleague here at Chicago, and an unusually original and wide-ranging scholar.
In turn, Saramago appreciates her UChicago colleagues for their keen feedback on her scholarship, their intellectual energy and generosity in sharing ideas, and, most of all, for their interest and belief in her abilities, especially when she first arrived on campus. According to Saramago, they have been fundamental to her career development.
Early in her academic studies, Saramago was drawn to Brazilian literature from the mid-20th century to the present. She realized that Brazilians had suffered so many changes and accelerations and were still grappling with transformations to their everyday lives. The Anthropocene in Latin America and Brazil has provided Saramago with the resources to shed new light on these transformations, where she can approach them from multiple genres, tropes, and periods.
"Professor Saramago is working at the cutting edge of energy humanities, an emerging field of scholarship that explores the interplay between energy systems and cultural formations," said Neil Brenner, the Lucy Flower Professor in the Department of Sociology and Chair of the Committee on Environment, Geography, and Urbanization (CEGU). "Her new book project will further enliven and inspire transdisciplinary discussions on energy, environment and global capitalist modernity that are animating our work in CEGU, in which Professor Saramago serves as a key faculty member."
Saramago thinks the collaboration among CEGU faculty members and its new programs place UChicago at the forefront of environmental research. In her view, CEGU will revolutionize the way environmental studies are conducted at UChicago and expand the importance of transdisciplinary exchanges.
As part of her engagement in environmental humanities, her book project analyses the materials and archives to show how humanistic inquiry can advance beyond the traditional themes of the field and into the newer problems of the energy humanities. Her work is part of the NEH's investment of $28.1 million for 204 humanities projects nationwide in 2023. During her NEH Fellowship, Saramago will travel to Brazil and conduct her research there. She acknowledges that the NEH Fellowship brings more visibility to her scholarship, resulting in wider readership of her forthcoming book.